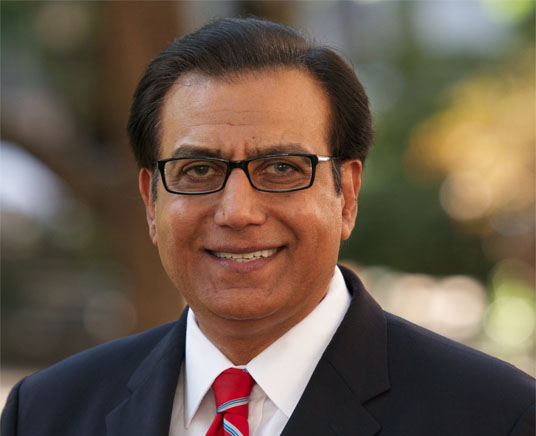 Saleem Rizvi is an eminent attorney of South-Asian heritage based in New York. He is also a well-regarded writer, TV host and commentator on legal and international affairs. He is the Principal Attorney and Founder of Rizvi Law Group. Mr. Rizvi has been practicing law in New York since 1990. After receiving his Bachelor of Laws, and Master of Arts degrees in Political Science and History from the University of Punjab, Pakistan, Saleem Rizvi came to the United States to pursue advanced education in law. His admission to the prestigious Columbia Law School afforded him the opportunity to expand his academic horizon and sharpen his legal skills in the area of international law.
Since his admission as Attorney at Law in New York in 1990, Mr. Rizvi has developed a diverse practice covering corporate law, commercial law, family law, real estate law, bankruptcy law, and immigration law. He is also recognized for his litigating skills. Mr. Rizvi represents foreign corporations, government agencies, private and public business entities, professionals and individuals. In addition, he has successfully represented numerous overseas investors who have made substantial investments in the Unites States and consequently obtained their lawful immigration status.
Mr. Rizvi is deeply involved in community affairs. Due to his deep understanding of American society and his extensive interaction with the South Asian Diaspora for over 30 years, he has developed a unique perspective on their multi-faceted issues. He has organized, participated, and lectured at many seminars and conferences on legal matters for the general public. He frequently writes on legal issues for newspapers and professional periodicals.
Saleem Rizvi hosts two highly popular TV program, shown on Dish Network throughout the US. In his live TV shows, he presents his legal analyses on hot button issues relating to law and justice and answers viewers' questions on a variety of legal matters. He has appeared on many television networks such as BBC, ABC and CNN, on community and global issues. TV New Zealand made a short documentary on his experiences as a Pakistani American in the aftermath of 9/11 In recognition of his community services, Honorable Ed Towns presented Mr. Rizvi with a Congressional award, and his services were recognized and noted in the Congressional Record.